Website version: switch to desktop always
The email form is here. If you have video we have a page where you can upload it to us. Ask for details.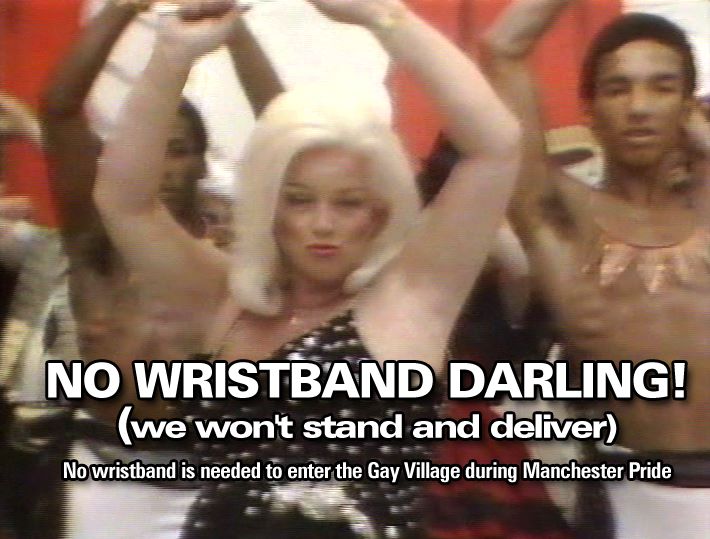 Live Blog 2018
Here's what we recorded throughout the weekend on our live blog as people walked into the gay village area without a purchase. We said you shouldn't feel guilty about not buying a band. Our 2018 factsheet (see below) has some interesting information on how effective a "fundraiser" this is and has been. Plus details about the 40% earnings increase the four Pride staff enjoyed in 2016! If you walked in without a band, and haven't done so already, you may like to donate a couple of pounds to a charity that gives more of its income to good causes.
EXCLUSIVE! Huddersfield Pink Picnic 1991
Every year we bring you a previously-unseen video. Here is a three minute edit of the Huddersfield Pink Picnic in 1991. This fabulous footage has never been seen in public until today, 27 years on.
The picnic took place overlooking the Dovestone Reservoir which is near the village of Greenfield, on Saddleworth Moor. It had been started by a group of friends in 1987 and was a fundraiser. By 1991 hundreds of people were attending informally for a fun get together on the public footpath and without "permission".
Don't believe the marketing propaganda about LGBT people living in fear and "in the shadows" in the 1980s. They don't want you to know what fun it was before we became a "brand". This is what it was really like! And can be again in the future.
Grab and share these images with quotes from Greater Manchester Police, Manchester City Council and the Local Government Ombudsman.
NEW! Factsheet 2018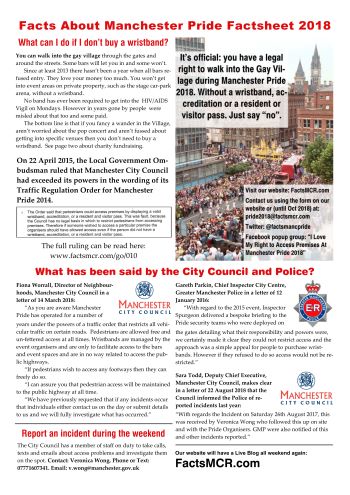 It's official! It's unlawful for anyone to block you from walking into the gay village and along the streets during Manchester Pride because you haven't paid for a wristband. For the last four years people have walked in without a band and have been served by some bars.
Here's our factsheet for 2018 so you know your rights and can walk in with confidence and pride!
Click to download the PDF version.
And here it is as two images (handy for sharing on Facebook): page 1 | page 2
Our factsheet from 2017 can still be downloaded as a PDF here.
ABOUT US
Our campaign group started off as Facts About Manchester Pride in 2011. We were concerned about a range of issues such as exclusion and low fundraising. As FactsMCR we still investigate and campaign about Pride. However we also cover other issues which affect LGBT people and Manchester, crime being one example.
Important news about Manchester Pride tickets and wristbands 2018
Following a ruling by the Local Government Ombudsman (PDF) (or see it direct on the LGO website) in April 2015, you DO NOT need to buy a ticket or wristband to walk along the pavements of the gay village during the Manchester Pride weekend this coming August. If you are a resident you and your visitors DO NOT need a pass to get to your home. It is UNLAWFUL to block you.
The Ombudsman stated that your right is to make your way to homes or businesses where no alternative route exists.
Please note that a wristband IS required to get into event areas on private property, such as car-parks, and access into some bars and clubs. Though other bars and clubs will let you in without a band, as has happened for several years now.
In fact campaigners first found out about the legal situation because in 2012 (and possibly in earlier years) Crunch Bar insisted that customers without bands should be allowed to reach their premises. Yes the gay village bars, Pride and City Council have known the true situation for a long time but chose to keep the public in the dark because it was profitable to do so.
SACKVILLE PARK
In 2016 the Citywide Highways Manager at Manchester City Council stated that entry to Sackville Park couldn't be denied to non-wristband holders. We believe there is an established right of way through the Park. However, people have continued to be blocked, perhaps because of the way the Local Government Ombudsman phrased the ruling? We can see no reason why members of the public should be denied access to this public park. More to come on this.
NEWS BLACKOUT
So far there is an almost total media blackout about the victory by campaigners and changed situation regarding access. This in itself is most interesting.
It shows what the mainstream and gay media are concerned about: not the legal rights of the public and unlawful behaviour of a gay pride organisation, but commercial profits, ad income being dented and political correctness. Yet note how they harp on endlessly about Stonewall in 1969 which was a street riot about civil rights!
Manchester Pride itself is staying quiet and not letting you know the wristband situation. Instead there is spin about how the community has been engaged with in recent years and (would you believe it?) transparency!
Don't believe the hype...
Questions over Manchester Pride day tickets being withdrawn (2016)
Some serious questions about ticket selling practices over the weekend, which seem to force members of the public to pay more. Read more here (external site).
Here's what we live blogged during Manchester Pride in 2017. In terms of problems we felt it was the worst since 2014. That's completely unacceptable when it was the third event since the ruling by the Local Government Ombudsman. It isn't credible that security don't know what they are allowed to do. In previous years they were briefed on it by the police. Manchester Pride is playing games...
Once again we ran a live blog during Manchester Pride. Recording your experiences of walking to business premises and homes without a wristband purchase.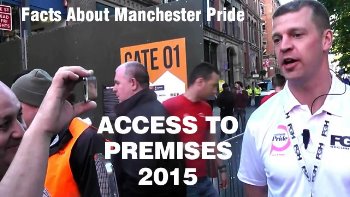 During Manchester Pride we ran another live blog as members of the public insisted on their legal right to walk on the pavements of the gay village without paying.
The situation had changed somewhat since 2015! Read more...
Here's what happened as campaigners and other members of the public challenged the gates during Manchester Pride weekend in 2014. Despite clear written advice from the Department For Transport, officers of Greater Manchester Police stood and watched as people were unlawfully blocked from the public pavements by private security guards. GMP receives a payment of around £50,000 from Manchester Pride for policing each year! Read more...
We've assembled video evidence with some notes at this link:
Falsely told to buy a wristband for the HIV/AIDS Vigil in 2007 & 2008
When wristbands were reintroduced in 2003 the commmunity was assured that the Monday HIV/AIDS Vigil would always be free to attend.
In reality, Pride's guards and the ticket office often told people that they must buy a costly band just to attend the Vigil.
In 2007 and 2008 we fitted our reporter with a microphone and caught them doing this on video:
Here a man describes on video how he was told he had to buy a wristband in 2007.
In this second video clip from 2008 we catch the ticket office saying we must pay.
Here in 2008 a security person tells our reporter a wristband must be purchased. Then we catch the chair of Manchester Pride (who was also the CEO of Marketing Manchester) as he emerges through a gap in the fence and we ask him about it.
The former Festival Manager denied this ever happened. Despite there being evidence on video. Reality is whatever they want it to be at Manchester Pride.
Having seen Pride's behaviour at the gates since the ruling by the Local Government Ombudsman in 2015 we now suspect there was a deliberate policy of misleading people about the Vigil whenever possible. In its publicity Manchester Pride rarely mentioned that the Vigil was free to attend. In the same way as it doesn't publicise that you can walk into the gay village without a purchase now.
No decent and honest organisation behaves in this way, let alone a charity.
LATEST! The mystery of the "missing" Traffic Order for Pride 2018
On Tuesday, the day after Manchester Pride finished, campaigner Alex received an email from the Department For Transport (DFT). It explained that the DFT had only just received a Traffic Order from Manchester City Council that morning. So the Secretary of State had been unable to approve anything for the Pride weekend.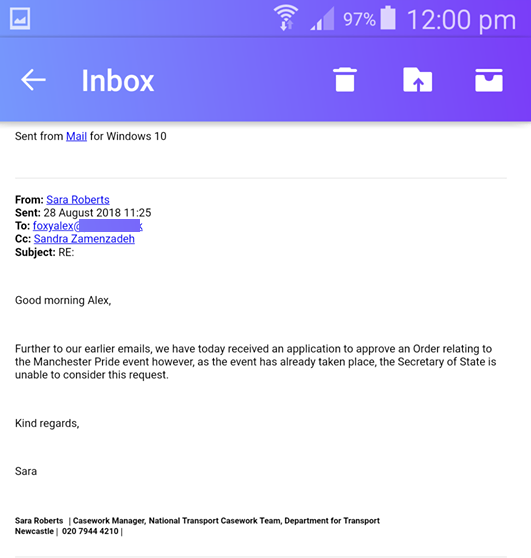 Because Pride lasts for longer than three days and because the streets were closed within the previous twelve months (for Pride the year before) the Secretary of State must give approval for the road closures. But this year didn't.
On the Wednesday before the Pride weekend (22 Aug), by email, Geoff received a letter from the Deputy Chief Executive of Manchester City Council. It explained that the Council was still adjusting the Order (less than two days before the street closures were due to begin) and that he would receive a copy when finished. It's now 7 September, 16 days later, and still nothing has been received.
So what happened? Is it possible that Manchester Pride illegally closed the streets to vehicles with no Traffic Order in place? Hard to believe. But, if so, it would be the icing on the cake after 15 years of unlawfully charging and obstructing pedestrians, when they actually had a legal right to reach premises. We intend to find out.
Manchester Metrolink misleads public about wristband purchase and refuses to publish a correction

On 13 August 2018 Manchester Metrolink told its 65,000 Twitter followers wrongly that a "pledgeband" purchase was necessary to enter the gay village during Manchester Pride. Shamefully Metrolink has refused to tweet a correction to ensure the public knows the truth.

Metrolink deleted the original tweet and then lied to the public again in another saying "we have at no point advised anyone on access to this area". Unluckily for them a screengrab had been made. This is exactly why Manchester Pride has been able to continue screwing over the public for so long and likely will do again this year.
Crime map shows 80 reported violent & sexual crimes in the gay village in May 2018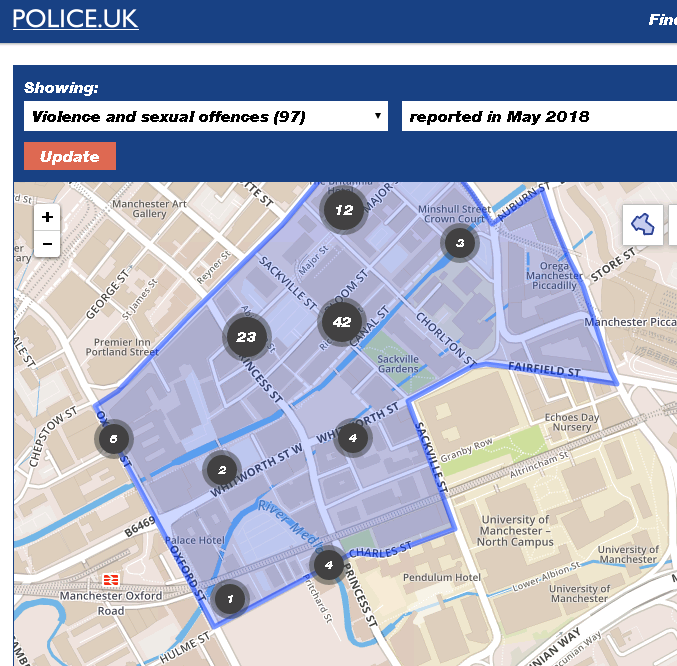 Reported violent and sexual crimes in Manchester's gay village have doubled or tripled compared to just a few years ago. The marketing propaganda is that this is a "safe area" for LGBT people. It obviously isn't. It's a very dangerous place. How can anyone continue encouraging young people to go there? In the 1980s ONE such crime would have caused an outcry.
Think how many victims that is a year. When does the real action begin, to improve this? Instead of silly schemes and PR stunts? Next weekend the police will march along in the "pride" parade with a rainbow painted police car.
Not long ago Bloom Street was named in the press as the joint 15th most crime-ridden street in England and Wales. Why would anyone allow a gay area to be like this?
Is leaving LGBT people to their fate -- to be beaten and assaulted -- a covert form of homophobia on the part of certain officers of Greater Manchester Police? An effective way to destroy the gay village and keep LGBT people away from the city centre...
See the crime map here at police.uk.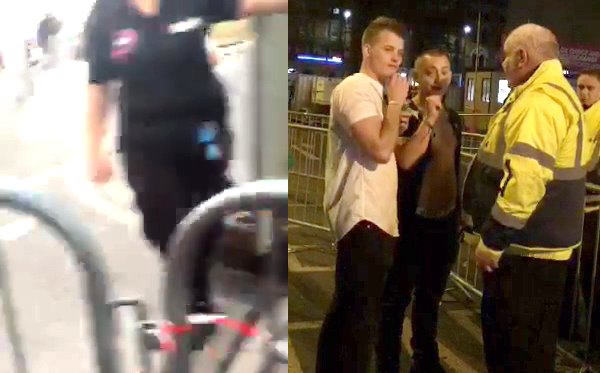 The third annual event since the ruling by the Local Government Ombudsman. Since 2015 Greater Manchester Police has briefed Pride's security staff about what their responsibilities and "powers" are. Yet they continue to mislead the public at the gates. Hands up anyone who still believes this is accidental...
On this page you can watch two videos.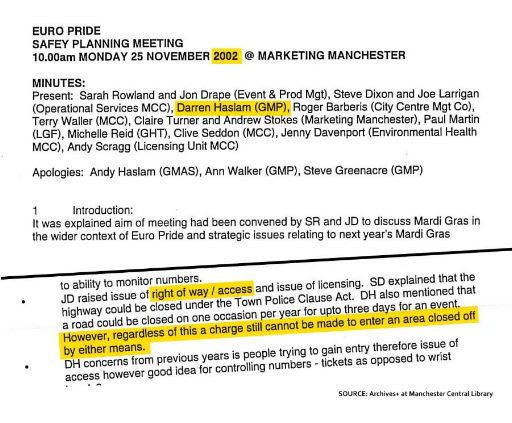 Campaigners have uncovered the minutes of a pride planning meeting that was held in November 2002. The meeting was told that two methods could be used to close the roads but that a charge could not be made to enter either way. Despite this, somehow they went ahead. Read more.
26 years ago (video)
Published here with permission, these exclusive snippets show the bank holiday in 1991. They are from much longer footage which covers a number of events over the weekend. The video footage has been digitally remastered from the original SVHS tapes recently, with amazing results. However the clips here are from an older transfer. You won't see these at any Manchester Pride history event.
This first video shows the "street market" on Monday 26 August 1991. The stalls moved into Sackville Park instead of being on the road outside the Rembrandt Hotel. The original audio on the footage comprises of a frenetic selection of various classics played by Mike Coppock ("Big Bird" from Rockies) in the Park but that has had to be replaced here for copyright reasons.
Our second treat for you is "It's A Knockout" on the Bloom Street car-park on Saturday 24 August 1991 at 3.45pm. Revealing cycling shorts were the thing to wear at that time. The propaganda is that we were scurrying around darkened streets in terror in those days. In fact we were very out, proud and loud as this shows.
A touching speech by Paul Orton of Clone Zone on the Monday night. This was followed by a fireworks display which ended with "Manchester Cares" spelt out. That is what it was about in those days: caring and fundraising. It wasn't a pride, festival, tourist event, corporate money maker or smoke and mirrors trick charity to get people spending.
Manchester Metrolink
What is the procedure for suspicious packages on Manchester's trams? Read more.
Further website upgrades
We've made a few more tweaks to the website. You can choose to have it reformat to fit your screen (phone or tablet for example) or you can always view the desktop version if you prefer that. Find these options at the bottom of every page and at top left of the front page.
As a result of a change of server we've removed the old forum. All the content has been saved and it could return in some form in the future. Forums and other PHP software are a security risk if not updated regularly and we would rather spend the time on more productive aspects of the campaign.
In 1989 the MEN called for an "awful" floral display in Piccadilly Gardens commemorating Stonewall to be "destroyed".
Nearly 30 years later the Evening (fake) News continues to stitch up the gay community: it called campaigners "trespassers" in 2014, falsely stated that a wristband was needed in 2015 after the Local Government Ombudsman had ruled and has stayed silent about our rights. The veteran ITV journalist John Pilger says that "not reporting" is one of the most powerful forms of censorship.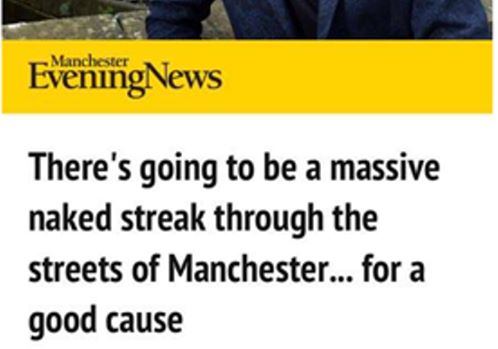 Our spoof press release about Manchester Pride, sent from a free email account, was published by the MEN, apparently without any fact checking. In this way, the newspaper, which celebrates its 150th birthday this year, allows itself to be a conduit for promotional propaganda.
The MEN's reputation adds weight to the "fake news".
There was a serious journalistic purpose to doing this. We were tired of seeing misinformation being published over many years and trust in the mainstream media now seems to be at an all time low. Read what happened and see links to examples of the MEN's "reporting".
Media watch
A look at the media and LGBT organisations in Manchester.
LGBT FOUNDATION REFUSES TO CORRECT SERIOUS ERROR ABOUT QUENTIN CRISP
The LGBT Foundation's publication "Unlocking A Hidden History Ė A Researchersí Guide To Lesbian, Gay, Bisexual and Trans Historical Sources In Manchester" falsely claims that Quentin Crisp called Manchester "home". It even mentions Crisp ahead of Alan Turing and we think this error led to Crisp being included in the mural on the side of the Molly House in Manchester's gay village. Heritage Lottery Funding is being spent on inaccurate projects like this "guide" which misleads people about LGBT history and pretends to be a source for researchers. Read more (external page).
PRIDE AND THE MANCHESTER EVENING NEWS CONTINUE TO MISREPRESENT MANCHESTER'S LGBT HISTORY
In an article dated 2 May 2016, the Manchester Evening News claims that 2015 was the "25th anniversary of LGBT celebrations in the city". This is untrue.
There was a Gay Pub and Club Olympics event in Manchester in August 1985 and Northern Pride in June 1986. There was the Section 28 March in 1988 and an event called Love Rights '89 in 1989 which was actually billed as a "celebration of Lesbian and Gay Sexuality".
In the article, Mark Fletcher the CEO of Manchester Pride, is quoted saying "twenty five years of LGBT events in the city goes to show what an open city we live in". Fletcher told us he has been only partially quoted by the Manchester Evening News. But, despite that and emails from other people, the article hasn't been corrected.
In 2017, Manchester Pride received almost £60,000 of Heritage Lottery cash for a project charting our LGBT history. It seems rather pointless when they are party to "news" articles which misrepresent the history and facts to hundreds of thousands of people.
"FASHION DESIGNER" QUENTIN CRISP BURIED IN MANCHESTER SAYS THE MEN -- WRONGLY
In this article the Manchester Evening News states incorrectly that Quentin Crisp is buried in Southern Cemetery. In fact he was cremated and his ashes were flown to New York. In another article the MEN describes Crisp as a "fashion designer" and one of Manchester's "most famous gay people". Crisp never lived in Manchester, doesn't seem to have had any connection with the city except for dying in Chorlton Cum Hardy while on a flying visit, and doesn't seem to have been a fashion designer.
FAKE NEWS ABOUT THE 2013 CHARITY FIGURE
In 2013 the MEN told us that Manchester Pride had raised £34,000 "this year". That was untrue. In fact Pride had made a loss of more than £16,000 that financial year and the £34,000 for good causes came from reserves in the bank account.
GAY VILLAGE CLOSED "AS USUAL" -- MEN
On 25 August 2015, the Manchester Evening News wrote: "as usual the gay village will be closed to people who do not have wristbands".
This was a lie as the previous April the Local Government Ombudsman had ruled that members of the public and residents had a legal right to access premises without a wristband. What had happened in previous years had been unlawful. Yet the MEN didn't think that fact was newsworthy! The Evening News knew about the campaigning surrounding this and that the Department For Transport had made clear the situation in a letter the previous August, because it had written articles about it then.
Is it that they that like a bit of "to and fro" in the run up to Pride and some plucky protestors whom the MEN believes have no prospect of bringing change? But then when they succeed, shock horror, we must have a media blackout.
The Manchester Evening News didn't reply to several emails and the article remains online misleading the public.
RECORD AMOUNT RAISED SAYS MEN. BUT HERE'S WHAT IT DIDN'T TELL YOU
"Manchester Pride raises record amount for charity in 2016," wrote the Manchester Evening News on 25 November 2016.
What the MEN didnít tell readers was that Manchester Pride had changed its end of year accounting date from 30 September 2016 to 31 December 2016, giving it a 15 month accounting year in 2015/16 and an extra six to seven weeks of income before the announcement of the charity total. This is the sort of subterfuge that proper journalists uncover.
15 May 2017: "Fighting 'fake news': Why you should trust The Manchester Evening News as the general election nears." No, don't laugh. From the newspaper that told you 600,000 people had viewed the Mardi Gras parade in 1999, that you needed a wristband to get into the gay village in 2015 when the Department For Transport and Local Government Ombudsman had said you didn't and which published our spoof "naked streak" press release without the most basic checks.
Have they learnt their lesson? No...
19 May 2017: The Manchester Evening News has had to publish a public apology after printing an untrue story about a dead mouse being found in a protein shake. The company concerned describes the article as "fake news" and the Northwich Guardian reports they plan to take "appropriate legal action" against all parties involved.
1 July 2018: Here's another journalistic fail by the Manchester Evening News. The MEN writes that the incident happened outside AXM bar. But AXM ceased to exist about 11 months earlier and the premises (which were once Hollywood Showbar) are called Club Bloom. In fact the closure was a "news" story for the MEN at the time. Riveting stuff... In another fail, their photo shows the opposite end of Bloom Street at the side of the bus station when the incident happened yards from the Princess Street end. What a great help this is in reaching witnesses.