LIVE BLOG - 2017
For the fourth year we'll run a live blog this coming Manchester Pride. The aim being to record your experiences. We want to ensure that Pride's security guards act within the law and respect our rights. We have a legal right to make our way to business premises and homes without buying a wristband, carrying a pass or being delayed - the Local Government Ombudsman has said so (PDF).
Also we would like to hear your experience of buying a ticket during the event. Last year there seemed to be evidence of people only being offered whatever happened to be the most expensive option (external link).
Send info/contact us here.
Factsheet 2016
A new version for 2017 will be here well before Pride weekend but until then you can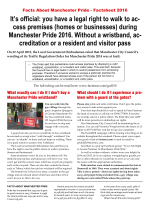 grab a copy of our 2016 factsheet.
So you know your rights and can walk in with confidence and pride! Here is the PDF version.
And here it is as two images (handy for sharing on Facebook): page 1 | page 2
Important news about Manchester Pride tickets and wristbands 2017
Following a ruling by the Local Government Ombudsman (PDF) in April 2015, you DO NOT need to buy a ticket or wristband to walk along the pavements of the gay village during the Manchester Pride weekend this coming August. If you are a resident you and your visitors DO NOT need a pass to get to your home. It is UNLAWFUL to block you.
The Ombudsman stated that your right is to make your way to homes or businesses where no alternative route exists.
Please note that a wristband IS required to get into event areas on private property, such as car-parks, and access into some bars and clubs. Though other bars and clubs will let you in without a band, as has happened for several years now.
In fact campaigners first found out about the legal situation because in 2012 (and possibly in earlier years) Crunch Bar insisted that customers without bands should be allowed to reach their premises. Yes the gay village bars, Pride and City Council have known the true situation for a long time but chose to keep the public in the dark because it was profitable to do so.
SACKVILLE PARK
In 2016 the Citywide Highways Manager at Manchester City Council stated that entry to Sackville Park couldn't be denied to non-wristband holders. We believe there is an established right of way through the Park. However, people have continued to be blocked, perhaps because of the way the Local Government Ombudsman phrased the ruling? We can see no reason why members of the public should be denied access to this public park. More to come on this.
NEWS BLACKOUT
So far there is an almost total media blackout about the victory by campaigners and changed situation regarding access. This in itself is most interesting.
It shows what the mainstream and gay media are concerned about: not the legal rights of the public and unlawful behaviour of a gay pride organisation, but commercial profits, ad income being dented and political correctness. Yet note how they harp on endlessly about Stonewall in 1969 which was a street riot about civil rights!
Manchester Pride itself is staying quiet and not letting you know the wristband situation. Instead there is spin about how the community has been engaged with in recent years and (would you believe it?) transparency!
Don't believe the hype...
Questions over Manchester Pride day tickets being withdrawn (2016)
Some serious questions about ticket selling practices over the weekend, which seem to force members of the public to pay more. Read more here.
25 years ago (video)
Published here with permission, these exclusive snippets show the bank holiday in 1991. They are from much longer footage which covers a number of events over the weekend. The video footage has been digitally remastered from the original SVHS tapes recently, with amazing results. However the clips here are from an older transfer. You won't see these at any Manchester Pride history event.
This first video shows the "street market" on Monday 26 August 1991. The stalls moved into Sackville Park instead of being on the road outside the Rembrandt Hotel. The original audio on the footage comprises of a frenetic selection of various classics played by Mike Coppock ("Big Bird" from Rockies) in the Park but that has had to be replaced here for copyright reasons.
Our second treat for you is "It's A Knockout" on the Bloom Street car-park on Saturday 24 August 1991 at 3.45pm. Revealing cycling shorts were the thing to wear at that time. The propaganda is that we were scurrying around darkened streets in terror in those days. In fact we were very out, proud and loud as this shows.
A touching speech by Paul Orton of Clone Zone on the Monday night. This was followed by a fireworks display which ended with "Manchester Cares" spelt out. That is what it was about in those days: caring and fundraising. It wasn't a pride, festival, tourist event, corporate money maker or smoke and mirrors trick charity to get people spending.
LATEST: a 2002 pride planning meeting was told that charging to enter public streets was unlawful
Campaigners have uncovered the minutes of a pride planning meeting that was held in November 2002. The meeting was told that two methods could be used to close the roads but that a charge could not be made to enter either way.
Despite this, the following August, the public were locked out from the streets of Manchester's gay village if they didn't purchase a wristband for Europride. That continued every year until 2014 when the campaign group Facts About Manchester Pride blew the whistle on the unlawful practice. The following April the Local Government Ombudsman ruled (PDF) and the game was up.
Present at the meeting in 2002 were representatives of Marketing Manchester, Manchester City Council, George House Trust, The Lesbian and Gay Foundation (now known as the LGBT Foundation), Greater Manchester Police and the organising team of Europride (which was renamed Manchester Pride in 2004).
Why was the advice, which appears to have come from the representative of Greater Manchester Police (GMP), ignored? Why didn't GMP stand up for the rights of the public and defend the law?
The misery these people inflicted on residents and some members of the LGBT community is hard to measure. For 12 years those who could not afford to buy a ticket were unlawfully locked out from the streets of the gay part of Manchester during a so-called "pride" event.
From 2011, the campaign group Facts About Manchester Pride told you the truth about what was going on and what an onslaught of abuse it faced as a result.
And still it isn't over, as the current organisers of Manchester Pride stay silent about this. As do the cronies: GHT, LGBT Foundation, the Manchester Evening News and many others. Are these really friends of ordinary LGBT people? Whose interests do they represent?
Archives reveal "regular, ranting bigotry about gays" in the pages of the Manchester Evening News
In 1989 the MEN called for an "awful" floral display in Piccadilly Gardens commemorating Stonewall to be "destroyed."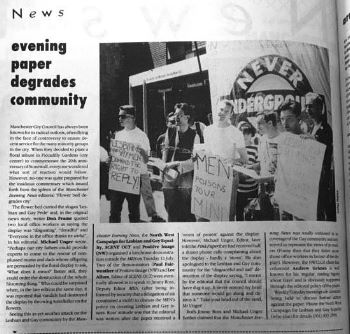 "MEN poisons your mind" states one banner at the protest outside the paper's HQ on Deansgate
One of our elves has been hard at work digging through material in the library.
An article in Scene Out magazine, August 1989 issue, reports on how a floral tribute in Piccadilly Gardens to celebrate the 20th anniversary of Stonewall (the origin of gay pride), was sprayed with weedkiller by vandals. It happened after an editorial in the Manchester Evening News suggested that the display should be destroyed.
The display had been created by Manchester City Council and carried the slogan "Lesbian and Gay Pride." The MEN reported how office workers said it was "disgusting"and "awful." An editorial suggested that perhaps the city fathers should "order the destruction of the blooming thing." Vandals then did so.

Scene Out describes the coverage as "yet another attack" on the Lesbian and Gay community by the Manchester Evening News. The editor claimed that the paper was "totally unbiased" in its coverage of the gay community. However campaigners highlighted the MEN's then columnist Andrew Grimes and his "regular, ranting bigotry about gays."
There was a protest outside the offices of the MEN on Deansgate (shown in the photo). Paul Fairweather being one who was there. Two of them were invited in to speak to the Deputy Editor after being informed by security that six was considered "a mob."
This will all be news to younger readers. But some of us older LGBT people have a long memory. Some will say it's more than 25 years ago. But there are such double standards. The Tories are still slated for Section 28 on a regular basis, while other homophobia from the time has been airbrushed away and despite £250,000 of Heritage Lottery funding having been spent on "LGBT history projects" in recent years.
These days the Manchester Evening News poses as a supporter of LGBT people and is a "media partner" to Manchester Pride. But, at the same time, it continues the dirty tricks when it comes to LGBT campaigners who are actually fighting for lawful rights -- such as those surrounding the illegal street closures during that same corporate Manchester Pride.
In its response to our naked streak spoof, MEN owner Trinity Mirror wrote that the paper was "proud of its longstanding support of Manchester Pride." But you can see that, in 1989, as the commmunity organised HIV fundraising jumble sales on Canal Street, and years after the first pride had taken place in the city, the Manchester Evening News deliberately degraded our community.
Thanks to Archives+ at Manchester Central Library where the Scene Out magazine was found.
Welcome to our new website
We've had a redesign and this new site should work more effectively on a range of devices.
Please bookmark us and call back for updates in coming months.
As a result of a change of server we're removed the old forum. All the content has been saved and it could return in some form in the future. Forums and other PHP software are a security risk if not updated regularly and we would rather spend the time on more productive aspects of the campaign.
Once again we ran a live blog during Manchester Pride. Recording your experiences of walking to business premises and homes without a wristband purchase.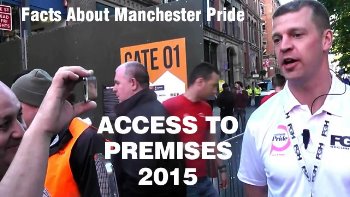 During Manchester Pride we ran another a live blog as members of the public insisted on their legal right to walk on the pavements of the gay village without paying.
The situation had changed somewhat since 2015! Read more...
Here's what happened as campaigners and other members of the public challenged the gates during Manchester Pride weekend in 2014. Despite clear written advice from the Department For Transport, officers of Greater Manchester Police stood and watched as people were unlawfully blocked from the public pavements by private security guards. GMP receives a payment of around £50,000 from Manchester Pride for policing each year! Read more...
We've assembled video evidence with some notes at this link:
How FactsMCR exposed poor standards at the Manchester Evening News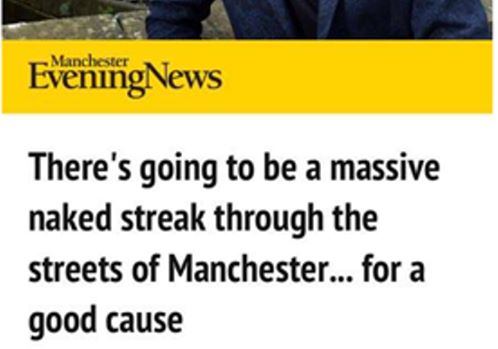 Our spoof press release about Manchester Pride, sent from a free email account, was published by the MEN, apparently without any fact checking. In this way, the once-proud newspaper, which celebrates its 150th birthday next year, allows itself to be a conduit for promotional propaganda.
The MEN's reputation adds weight to the "fake news."
There was a serious journalistic purpose to doing this. We were tired of seeing misinformation being published over many years and trust in the mainstream media now seems to be at an all time low. Read what happened and see links to examples of the MEN's "reporting."
Update (15 May 2017): "Fighting 'fake news': Why you should trust The Manchester Evening News as the general election nears." Goodness. From the newspaper that told you 600,000 people had viewed the Mardi Gras parade in 1999, that you needed a wristband to get into the gay village in 2015 when the Department For Transport and Local Government Ombudsman had said you didn't and which published our spoof "naked streak" press release without the most basic check.
Have they learnt their lesson? We can only hope so...
Update (19 May 2017): The Manchester Evening News has had to publish a public apology after printing an untrue story about a dead mouse being found in a protein shake. The company concerned describes the article as "fake news" and the Northwich Guardian reports they plan to take "appropriate legal action" against all parties involved.
Media watch
A look at the media and LGBT organisations in Manchester.
ARROGANT LGBT FOUNDATION REFUSES TO CORRECT SERIOUS ERROR ABOUT QUENTIN CRISP
The LGBT Foundation's publication "Unlocking A Hidden History – A Researchers' Guide To Lesbian, Gay, Bisexual and Trans Historical Sources In Manchester" falsely claims that Quentin Crisp called Manchester "home". It even mentions Crisp ahead of Alan Turing. Heritage Lottery Funding is being spent on inaccurate projects like this "guide" which misleads people about LGBT history and pretends to be a source for researchers. Read more.
PRIDE AND THE MANCHESTER EVENING NEWS CONTINUE TO MISREPRESENT MANCHESTER'S LGBT HISTORY
In an article dated 2 May 2016, the Manchester Evening News claimed that 2015 was the "25th anniversary of LGBT celebrations in the city." This is untrue.
There was a Gay Pub and Club Olympics event in Manchester in August 1985 and Northern Pride in June 1986. There was the Section 28 March in 1988 and an event called Love Rights '89 in 1989 which was billed as a "celebration of Lesbian and Gay Sexuality."
In the article, Mark Fletcher the CEO of Manchester Pride, is quoted saying "twenty five years of LGBT events in the city goes to show what an open city we live in." Fletcher claims he has been only partially quoted by the Manchester Evening News. But, despite that and emails from other people, the article hasn't been corrected.
This year, Manchester Pride has received almost £60,000 of Heritage Lottery cash for a project charting our LGBT history. It seems rather pointless when they are party to "news" articles which misrepresent the history and facts to hundreds of thousands of people.
GAY VILLAGE CLOSED "AS USUAL" -- MEN
On 25 August 2015, the Manchester Evening News wrote: "as usual the gay village will be closed to people who do not have wristbands."
That was a lie as the previous April the Local Government Ombudsman had ruled that members of the public and residents had a legal right to access premises without a wristband. What had happened in previous years had been unlawful. Yet the MEN didn't think that fact was newsworthy!
The Manchester Evening News didn't reply to several emails and the article remains online misleading the public.